Taxidermy Field Care From
Bowman's Wildlife Taxidermy in Walnut Cove, North Carolina

Proper Handling of Your Trophy
The quality of your mount begins with you. Many trophies are ruined due to poor handling. Bacteria start to grow as soon as the specimen dies. Warmth and humidity speeds up the process. Trophies should be put in a cooler or preferably frozen as soon as possible. When field dressing your trophy for a shoulder mount, avoid cutting into the brisket area. If possible put the animal on a four wheeler to transport. If you must drag the animal, keep the shoulder held up high to avoid damage to the hair from rock, sticks, etc.
Skinning for a Shoulder Mount
Begin with the trophy hanging up by the back legs. Start skinning at the knees, down both the back legs, with the cuts meeting at the rectum. Cut the tail bone at the joint closest to the carcass. Begin peeling the skin down to the front shoulders. Now make a cut around both front knees and cut them off with a hacksaw at the knees. This is where it gets interesting. Many capes are ruined by not having enough hide at the armpit and brisket areas. Continue skinning down the legs, with the front legs already cut off at the knees. The legs will come out of the cape, just like pulling your arms back through a short sleeve shirt. Continue skinning down the neck, leaving approximately four inches of the neck attached to the head for measurements. This will determine the form size that fits your trophy. This method takes a little longer, but now you have a perfectly caped trophy with no cuts, and plenty of hide. Now your form selection is limitless. Put your hide in a plastic bag and freeze it or take it straight to the taxidermist if possible.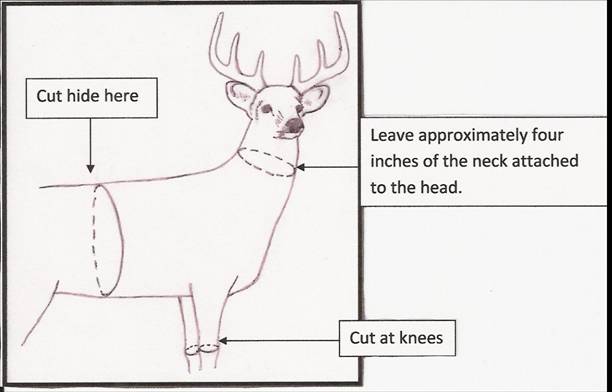 Big Game Life-size
There are several different methods of skinning life-size animals. Contact your taxidermist before you go on your hunt for skinning instructions. It depends on how you want your trophy mounted for the proper skinning method.
Small Game Life-size
Small mammals should only be skinned by the taxidermist. Do not gut the animal. Put the whole animal in a plastic bag and freeze as soon as possible. They will spoil very quickly and cause hair slippage.
Fish
Do not gut the fish. Place the whole fish in a very wet towel, roll it up, and place in a plastic bag. The fish will keep for months without freezer burn kept this way.


1025 Countryview Drive
Walnut Cove, NC 27052
(336) 591-4828
or
email us at
Keith@bowmanstaxidermy.com

COPYRIGHT © BOWMAN'S WILDLIFE TAXIDERMY - ALL RIGHTS RESERVED